---
STRÅNG - a mesoscale model for solar radiation
<!img onmouseover="bigImg(this)" onmouseout="normalImg(this)" border="0" src="images/grid_example.png" width="245" height="269" hspace="30" >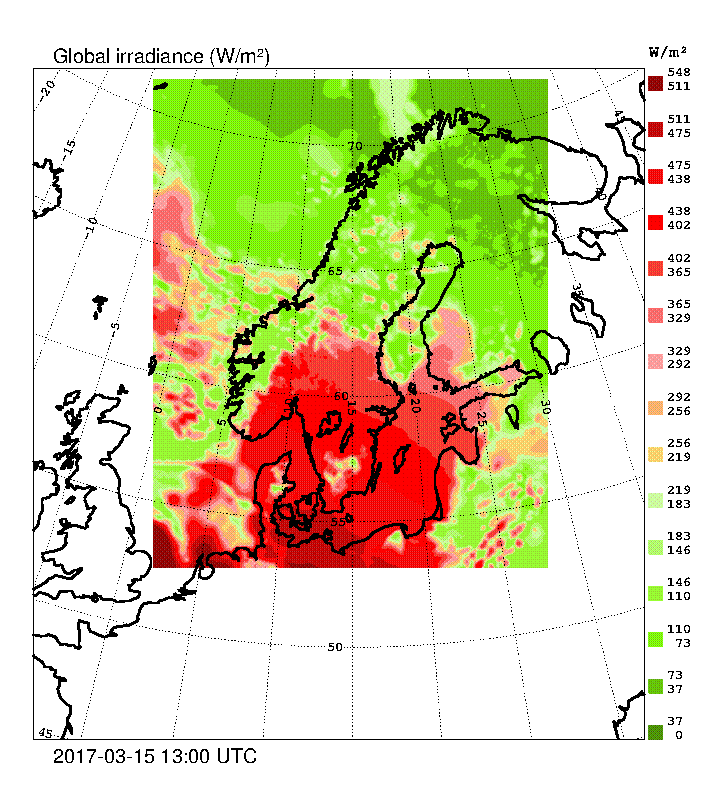 The STRÅNG model system produces instantaneous fields of global radiation, photosynthetically active radiation, UV radiation (CIE weighted) and direct normal radiation together with sunshine duration at a horizontal resolution of about 11 x 11 km and a temporal resolution of one hour. The model covers the geographic area of Scandinavia and the run off region of the Baltic sea with a grid of size 268 x 246. Information about direct solar radiation and global radiation from the radiation network of SMHI has been used for tuning and validation.
Before 1st of June 2006 the horizontal resolution was about 22 x 22 km with a grid of size 116 x 102.
The input and output fields that are produced by the system are adapted to the mesoscale analysis system at SMHI called MESAN. Other sources of data are a high resolution limited area NWP (HIRLAM), ice information from the oceanographic model HIROMB and ozone fields from the European Centre for Medium-Range Weather Forecasts (ECMWF) or, when these are not available, from the TOMS instrument.
The model development was financed by SMHI, the Swedish Radiation Safety Authority (Strålsäkerhetsmyndigheten, SSM) and the Swedish Environmental Protection Agency (Naturvårdsverket). The STRÅNG model is run at SMHI with financial contributions from The Swedish Environment Protection Agency (Miljöövervakningen).
---
| | | | |
| --- | --- | --- | --- |
| Data extraction | Monthly charts | Latest daily charts | Latest hourly charts |
---
More information: Thomas Carlund,
phone +46 (0)11 495 80 00, fax +46 (0)11 495 80 01